Understanding the classification of the European tyre label
Sample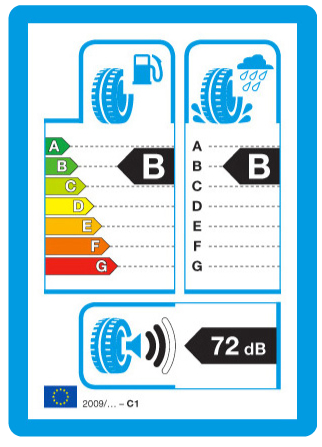 B
Fuel Efficiency
Description - The labelling of EU tyre in accordance with the Regulation (NQ.1222/2009) is applied by all EU Member States. The regulation applies to all passenger car, light truck and truck tyre. This labeling classifies all tyre in the EU on the basis of 3 criteria
B

Wet Grip
Description - The labelling of EU tyre in accordance with the Regulation (NQ.1222/2009) is applied by all EU Member States. The regulation applies to all passenger car, light truck and truck tyre. This labeling classifies all tyre in the EU on the basis of 3 criteria
72
Noise levels
Description - The labelling of EU tyre in accordance with the Regulation (NQ.1222/2009) is applied by all EU Member States. The regulation applies to all passenger car, light truck and truck tyre. This labeling classifies all tyre in the EU on the basis of 3 criteria
Sorry, it is not possible to add both Fully Fitted & Mobile Fitted tyres to your cart. If you would like to change please clear the cart from top right!
Lowest Price Guarantee
We guarantee to beat any like for like quote in the UK. Just tell us below what price we need to beat and we'll get back to you within 1 hour.
---